CRM integratie
De eenvoudige koppeling tussen uw CRM of ERP systeem en de Voclarion telefooncentrale. CloudCTI (Computer Telephony Integration) maakt het mogelijk om uw VoIP telefooncentrale te koppelen aan database applicaties zoals CRM en ERP systemen. CloudCTI is de enige CTI-oplossing die vanuit de cloud een integratie levert met meer dan 100 verschillende CRM systemen.
CloudCTI maakt het volgende mogelijk:
Klantenkaart pop-up bij een inkomend gesprek
Klik een telefoonnummer aan op direct te bellen (Click-to-dial)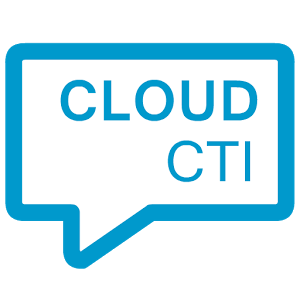 Klantenkaart pop-up
Er wordt een klantenkaart getoond bij een inkomend gesprek. Zo zien medewerkers snel en eenvoudig wie er belt en kan de klantenkaart direct geopend worden in het CRM systeem
Click to dial
Wij kennen de functie 'click to dial' al op onze smartphones, maar voor desk phones was dit niet mogelijk. CloudCTI zorgt er voor dat met één klik op de knop gebeld kan worden naar een nummer. Deze functionaliteit scheelt tijd en voorkomt fouten.
Voordelen CRM integratie
Efficient werken
Nooit meer het verkeerde nummer overnemen of drie keer controleren of de ingetoetste nummers kloppen. Met de click to dial functie gaat bellen vele malen efficiënter.
Klantvriendelijk 
Klanten waarderen een bedrijf dat hen snel en goed helpt. Waarom zou u nog om een klantnummer of adres vragen als er mogelijkheden zijn om direct een klantenkaart pop-up aan te roepen bij een inkomende oproep?
Minder fouten
Per ongeluk een pakketje naar mevrouw Janssen in plaats van Mevrouw Jansen sturen is verleden tijd. Omdat het systeem automatisch de klantenkaart toont, kunnen medewerkers geen fouten maken door een order aan te nemen op een verkeerde naam. Dit bespaart kosten voor het bedrijf en frustratie bij klanten.
Fijner werken voor uw werknemers
Niemand houdt van onnodig werk verrichten. Met één klik een klant bellen is vele malen efficiënter dan het nummer zelf over te moeten typen. Al gaat het om één belletje per dag, er gaat niets op tegen het gevoel van eenvoud.
Hoe werkt CloudCTI
Met CloudCTI kan een notificatie pop-up worden gegenereerd wanneer een gesprek binnenkomt. Deze pop-up laat de naam van de beller en andere geselecteerde informatie zien wanneer het nummer wordt herkend in het CRM systeem. De koppeling zorgt er dus voor dat het binnenkomende nummer wordt gematcht met de gegevens bekend in de database (uw CRM). Als het nummer wordt herkend, ontvangt de medewerker een pop-up met de klantenkaart en de informatie bekend in uw CRM systeem.
CloudCTI voor uw organisatie?
Welke systemen kunnen gekoppeld worden met uw Voclarion telefooncentrale?
2db software
4CIS CRM Software
7T CRM
A
Abacus CRM
ABCrm
Accensys CRM
Access
AccountView
ACT! 2012
ACT! Essentials
ActiveCampaign
ADAPT!
Adastra
Adecon Manager
Adressen Beheer Systeem
AdreZ
AFAS Online
AFAS Profit CRM
AGP Installware
AGP Projects
AGP Rent
AGP Trade
Alexion CRM
AllianceEnterpris
All-in-One
AllinOneSoftware
Alure CRM
Amadeus CRM
Amadeus Travel Agency software
AMF2000+
Amyyon Casemanager
ANVA
Appenta
Appenta CRM
Applix
Aprofit
Archie
Archifact
AS400
Ascensio
AssuPortal
Athena Online
AuditCase
AusVantage CRM
Avenade ERP MS Dynamics AX
Axxerion
Azor
B
Baan4
BaseNet Online CRM
B-CRM
Blue
Booware Relatie
BPA CRM
BrixCRM
Bullhorn
BundleBit
Business Contact Manager
Business Intelligence
Business Navigator
BusinessBase
Bytegear
C
Carerix Recruitment Edition
CarIT CRM
Carma
Car-Systems CSS
CAS CRM
CAS genesisWorld
Center1 CRM
Central Station
Centric
ChainWise
Charibase
Chess-direct
Chordiant
Cincom
CISTEM
ClientOffice
ClientProof
Clix CRM
Cluen Encore
ComLogic
Commence
Commoda CRM
Compenda CRM
Connection CRM
ConnectWise
ConnectX
Contact Beheer
ContactManager
Corpex CRM/ERP Software
Covide CRM
CRM Assistant
CRM Central
CRM in de wolken
CRMoffice
CRMpro
CRM-Relatiebeheer
CS Wholesale
CTB CRM
Cygnus
D
Data Outlet
Databalk
Datadirk
DATEV
Dave CRM
Davilex
DBFACTw
DBS Business Solutions
Delta Developer
DEVEX CRM
Dexton iSales
DIAS CRM
DigiDoc
DigitalTailor
Direct Manager
Downdijk backoffice CRM
Dynamics 365
E
EAM
EASI BS CRM
EasyFlex
easyRelatie
eBusiness Streams
Efficy CRM
EGroupware CRM
Elements
EniacBS
Epicor
Epiphany/SSA CRM
Eprisa EsiCRM (Pluriform)
EveryWare CRM
Evologistics
Exact Globe
Exact Online
Exact Synergy ASP
Exact Synergy Enterprise
Exquise
EyeMove
F
Fescalo Online Business Software
FileLinx CRM
FileMaker Pro
FinanceXperience
Flex.CRM
FleXad Relaties
Flexcom
Flexinet
Focus CRM
Freshdesk
Freshservice
Fuse5
G
Gilde Handsoft Infodesk
Glovia GoldMine
Green Sales
Groupwise
GT-X
H
HEAT
Highrise CRM
HTA Manager
HubSpot
Hybrid SaaS Online CRM
I
IBM Notes 9
iConnect
IFS Applications
i-globe
In2CRM
Info@ccess
InfoMan
Infor CRM ERP LN
Infor ERP Visual
Infor Evolution
Infor ION
InfoSphere CRM
Infusionsoft
Insight Marketing Software
InstallWorks
Insusoft
INTRAC Dynamics CRM
Inventive Power Software
i-PASO
IRIScrm
Isah Business Software
IT Factory
ItsClean
IZM
J
K
Kbrelatie
KeDo
KING
KlantExpert
Kocon
KRATZ C-Factor CRM Suite
L
Lawson M3
Legrand CRM
Lexter.crm
Lift Verkoop
Lightspeed eCom
Logic4 CRM
Logicworks CRM
M
Maex
Magic4Business CRM
Magister
Magma
Mamut
Manyware
Maxcredible
Maximizer CRM
MD-Relatie
Medicom
Micros RAS
Microsoft Access
Microsoft Access 2013
Microsoft Dynamics 365
Microsoft Dynamics AX
Microsoft Dynamics CRM
Microsoft Dynamics CRM Online
Microsoft Dynamics NAV
Microsoft Exchange
Microsoft Outlook
MicroStrategy 9
MijnCRM
Mijnklantensysteem
Mindbody MKB-CRM
Morphis ProcessRunner
MX CRM
My Companion
mySAP CRM
MySolution FLEX
N
Navision
NCCW BIS NOA
NCCW First NOA
Netsuite ERP
New Day at Work
NICE
Nocore
Notarieel Informatie Systeem
O
Oculus CRM
OFB CRM / ERP
Offective
Office Management Applicatie
Office365 (Outlook 2013)
OfficeDo
OfficialDesk
OGP Model
Olstand CRM
Omnivers
OneDirect
Online CRM
OpenERP
OpusFlow CRM
Oracle CRM On Demand
Oracle Enterprise One
Oracle Fusion
Oracle PeopleSoft
Oracle Right Now
ORCA
OrderFlow
OVAS Connect
P
Panta
Panter cti
PerfectView CRM Online
PerfectView CRM v9
Phronesyss
Pipedrive
PipelineDeals
Plain Synergy
Plan-de-CAMpagne
Pluriform Software
PortalCMS
Portima AS/Web
Prodin
Promatie
Promedico ASP
Provider
PSIpenta industry
PSU Relatiebeheer
Q
QAD Enterprise Applications
R
RADAR CRM
Realworks
Reflex Systems
Relatie/Q
Relatiebeheer
RelationManager
RelaX!
Retail Pro
RFX-CRM
Ridder IQ
Ridder R8 rmLITE
RPM Telco
S
Sage CRM
SalesAlliance
Salesforce.com
SalesLogix
SalesManager CRM
SalesXS
SAP Anywhere
SAP Business All-in-One
SAP Business All-in-One – mYuice
SAP Business All-in-One it.manufacturing
SAP Business One
SAP Customer on Demand
SAP HANA
ScopeCRM
Secundo
Selligent CRM
Sennce Agera
ServiceAlliance
ShareLock
ShowBiz CRM
Siebel CRM
Simplicate
SmartStudio R2
Sofon
Softlution Frontoffice
SpinOffice CRM
Splendid CRM
STATISTICA
STB CRM
Steps Business Solution
SugarCRM 7
SugarCRM Community
SuiteCRM 7
SuperOffice CRM Online
SuperOffice Web
SuperOffice Windows
Supply Chain CRM
Syntess Atrium Professional
System One
T
Teambase
TeamForce CRM.Web
Teamleader
Teleroute
Time
Tobit
TOPdesk-CRM
TopInfo
Tracer CRM
TRADIUM Business Software
Trias Uffizi
Trimergo Software
TvdMast CRM
U
Unibase CRM
Unit4
Unit4 Dias
UNIT4 Multivers Online
update.revolution
V
Visma Groothandel
Visma ProjectAdministratie
Voffice vTiger
W
WarehousePro
webCRM
WebHIS
WhiteWorks
Windex Communication Centre
WinRIS
WinTax
WinVis
WIZZkit
Wocas4All
WocasX
Workanizr CRM
X
Y
Z